Arnest has been performing contract manufacturing of perfumes, cosmetics and household chemicals since 2000 and is now the largest manufacturer of aerosol products in Western Europe.
Nowadays world known leaders of cosmetics market such as Henkel, Unilever, Beiersdorf, L'Oreal, Colgate- Palmolive, Coty, Oriflame and others entrust us with manufacturing of their products. Contract manufacturing product range has more than 1000 items and is constantly added with new types.
We managed to establish unique vertically-integrated system, which allows to concentrate all important development and mass production processes from formulation development to package and product manufacturing in the hands of a single manufacturer. Thus we have ensured maximum control of the process with minimum lead time and client's expenses for project management.
Professional team
Effective vertically integrated production system, modern high-tech equipment, advanced technologies, financial stability of the company, absolute reliability in fulfilling our obligation and flexible client-oriented service are the factors of success, which we are willing to share with our partners.
Arnest endavours to provide full set of services to contract manufacturing clients in accordance with their needs:
DEVELOPMENT OF NEW PRODUCTS UNDER OWN BRAND
ADAPTATION OF PRODUCT FORMULAE IN ACCORDANCE WITH CLIENT'S REQUIREMENTS
DESIGN PROCESSING, PREPRESS TESTING AND PREPARATION OF PACKAGE SAMPLES
STATE REGISTRATION OF THE FINISHED PRODUCT WITH PREPARATION OF ALL THE NECESSARY DOCUMENTS
DIRECT EXPORT TO ANY LOCATION
MIXING AND FILLING OF PRODUCTS IN AEROSOL IN POLYMER PACKAGE WITH EQUIPMENT OF LEADING MANUFACTURERS
OPTIMUM LOGISTIC SOLUTIONS: WAREHOUSE STORAGE, TRANSPORTATION OF FINISHED PRODUCTS TO CLIENT'S WAREHOUSES ACROSS RUSSIA
We are open for cooperation with Russian and international brand companies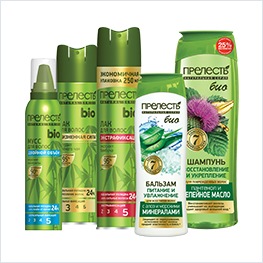 Personal care
Shampoos, hair conditioners and masks
Hair styling
Shower gels, soft soap
Deodorants and body sprays
Shaving foam
Baby cosmetics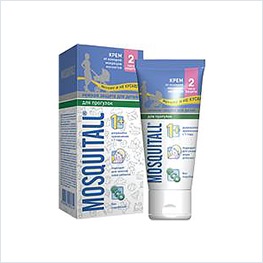 Insecticides and repellants
Dichlorvos
Moth killer (aerosol, plates)
Insect repellent (aerosol, fluid and plates for fumigator)
Insect sting treatment (creams lotions, balms)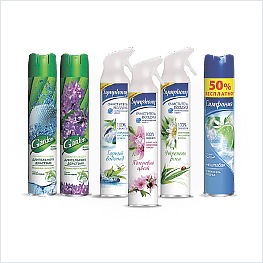 Household chemicals
Air fresheners
Polish
Window cleaner
Laundry products
Fabric softeners
Dishwashing liquid
Eco products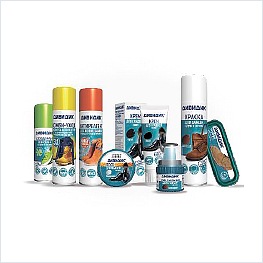 Shoe care products
Water-proofing
Shoe deodorant
Foam cleaners
Shoe stretcher
Finish and creams for different types of leather
Shoe sponges